Van de zes originele Avengers, zijn er uiteindelijk nog drie leden overgebleven: Thor, Hawkeye en Smart Hulk. Ook deze drie zullen uiteindelijk het stokje doorgeven aan hun opvolgers. Dit geldt ook voor Bruce Banner/ Smart Hulk.
She-Hulk is de volgende serie van Marvel Studios dat zich afspeelt in het Marvel Cinematic Universe (MCU). Jennifer Walters, het nichtje van Bruce Banner is een advocate die gespecialiseerd is in rechtszaken waarbij superhelden betrokken zijn. De afleveringen zijn geregisseerd door Kat Coiro (It's Always Sunny in Philadelphia) en Anu Valia (Never Have I Ever), en is geschreven door Jessica Gao (Rick and Morty). De serie bestaat uit tien afleveringen, met elke aflevering een speelduur van ongeveer 30 minuten.
Wie speelt She-Hulk?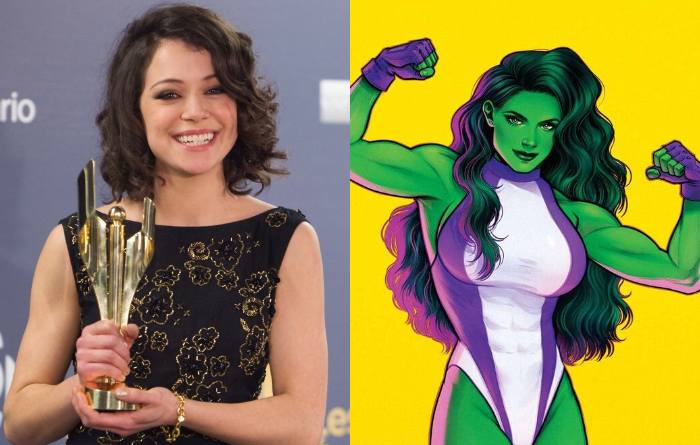 Jennifer Walters, het nichtje van Bruce Banner wordt gespeeld door Tatiana Maslany. Maslany won in 2016 een Emmy Award in de categorie 'Beste actrice in een dramaserie' voor het vertolken van meerdere personages in de serie Orphan Black.
Wie is 'She-Hulk' in de comics?
She-Hulk werd bedacht door Stan Lee en John Buscema in 1980 en debuteerde in The Savage She-Hulk. Nadat ze ernstig gewond raakte door een bendelid, was een bloedtransfusie van haar neef Bruce Banner nodig om haar leven te redden. Zijn bloed bestaande uit gammastraling veranderde Jennifer in She-Hulk. In tegenstelling tot de Hulk, behoudt Jennifer haar menselijke vorm, maar is alleen groter, sterker en groener.
Wie spelen er in de serie?
Mark Ruffalo is opnieuw te zien als Bruce Banner, de wetenschapper die met gammastraling heeft geëxperimenteerd en veranderde in de Hulk. In Avengers: Endgame (2019) vertelde Banner dat hij een manier heeft gevonden om samen te leven met de Hulk, ook wel Smart Hulk genoemd. Een ander bekend gezicht is Tim Roth als Emil Blonsky. De voormalig soldaat probeerde in The Incredible Hulk (2008) het experiment van Banner na te bootsen, maar transformeerde zichzelf in het monster, de Abomination. Zijn recente opwachting was in Shang-Chi: The Legend of the Ten Rings (2021).
Jameela Jamil (The Good Place) speelt Titania, de grote tegenstander van She-Hulk en heeft vergelijkbare krachten. Ginger Gonzaga (Mixology) speelt Jennifers beste vriendin en Renee Elise Goldsberry (Hamilton) speelt het personage Amelia. Anais Almonte (Gotham) en Josh Segarra (Arrow) zijn in onbekende rollen gecast.
Wanneer verschijnt 'She-Hulk' op Disney+?
She-Hulk verschijnt in 2022 op Disney+, maar een precieze datum is nog niet vrijgegeven.